Waiting for COLD weather!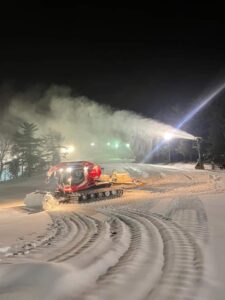 Ausblick attempts to open in early December. Snowmaking starts when the temperature will be 23°F or below for 8 hours or more. Winds must be from the west or northwest for optimum snowmaking conditions. Additionally, we try to avoid snowmaking between the hours of 9 am and 9 pm Monday through Friday as the cost of electricity is significantly higher during these periods. We always endeavor to spend your dues money carefully!
2022 – Ausblick is now nearing its final stage of snowmaking upgrades for its current skiable acreage.  The added infrastructure (power, water capacity, pipeline, snow guns) ensure you have a great snow surface, and plenty of snow terrain to enjoy! Ausblick, per ski able acreage, now has one of the biggest snowmaking systems in the Midwest.  "Think Snow, Think Ausblick!"
Ausblick is a proud user of SMI snowmaking equipment. The world-leader in snowmaking technology.