Throwback Thursday! Tom Vavra sent over a GREAT video from 1985/86. How cool is this!
Yes, Ausblick had some talented guys (didn't see any ladies doing this). Seems that the guys who were doing this were not aware, OR the club's insurance didn't have an exclusion for "aerial maneuvers" such as these. Once it was known, or the insurance company added such an exclusion, the wood/plywood jump was removed. There was no solemn ceremonial bonfire that ended this activity.
AusblickReadyIncSharehldrs1073
The word "History" comes from "his story". Ausblick's first historian assembled what you see (likely to be edited by a successor) from "his" perspective. Some may take issue with this, their prerogative, as well as having taken up/over the task to do the research, written and edited all this from their perspective. What follows is a serendipitous historical journey. Enjoy….
We continue to seek information, news clippings and pictures regarding Ausblick's colorful history.
If you have anything to share, please email us and we will get in touch with you. Promise!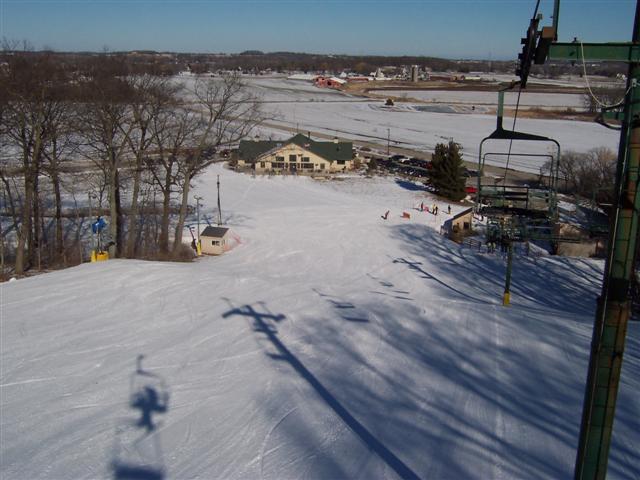 Ausblick (which means "scenic view or overlook" or, if you rearrange the letters, spell "A Ski Club") ski area dates back to the late 1940's. Reverend Raphael Hockhaus, S.J., a WWII combat Catholic chaplain started the Marquette University's Avalanche Club in 1948. He sought out a ski hill site for the club, which had been skiing at other area locations including Slinger and just west of Menomonee Falls. He drove around and found the site in early spring, (1948?) days after the Avalanchers learned they were losing the hill they used in the Slinger area. "One look at that big thing towering up into the noon sun," he said, "and we knew that was what we wanted – even though we were almost two miles away when we saw it." The club figured it was Divine Providence that led to the discovery of the hill so, in gratitude, christened the area "Maryhill" after the Virgin Mary. They planned to bring orphans and underprivileged children out to learn how to ski when Maryhill was completed.
The property was part of the John & Myrtle Condon farm. A contract (copy in Dennis Evinrude's file) shows that the university purchased the hill from John & Myrtle on November 1, 1950 for $5,000 after leasing it for two years from them. [The Condons owned farm land south of our hill top (in their mid 80's as of January, 2002; John passed in 2014, Myrtle passed November 12, 2019), leasing it out to other neighboring farmers when John retired from farming. The kids developed a subdivision called Celtic Ridge, neighboring Ausblick to the south.]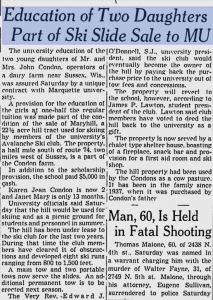 A couple pages fortuitously found among early documents and photos outlines the club's formation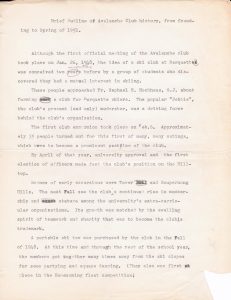 and
After arrangements were initially made to lease the property, work began in June, 1950 (?), clearing the rocks that beaded the long slopes. Rock clearing continued into the late fall. Crowbars, a portable tree saw, bulldozer, bucksaws, axes and trucks were donated by generous friends. A dynamiter gave the club dynamite to remove tree stumps, then loaned his services to blow them up.
The original lodge… The timbers and related lumber were scavanged from a garage located on the Marquette campus, Fr. Hochhaus being known for "recycling" any materials he could find. An Avalancher newsletter talks about this here:
This copy of The Avalancher represents a typical newsletter sent out to members of Marquette University's Avalanche Ski Club. 
More on Father Hochhaus: AvalancheHockhStory1191958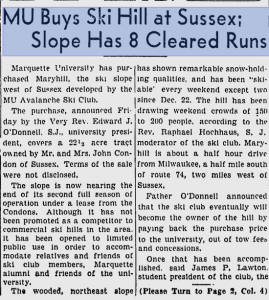 …this article from March 1, 1952
…requiring the removal of many logs: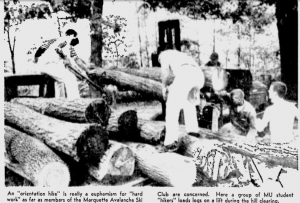 Here's a sketch dated august 3, 1952 with footnotes explaining areas and uses of the property = cool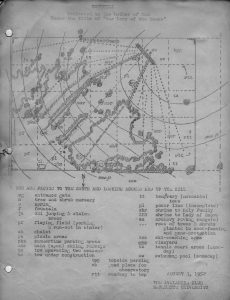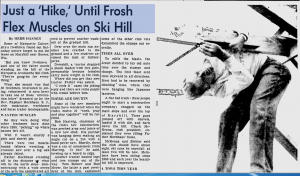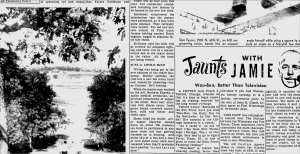 While the boys used their talents and brawn to build the lodge, the girls used theirs to keep everyone nourished (see below pictures).
MaryHillClearingTrees – another picture of students clearing trees =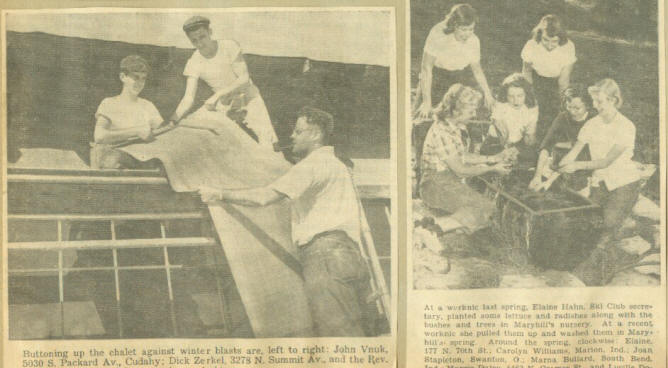 …an early picture of the first lodge (two additions came later)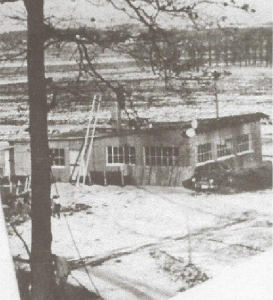 …February, 19?? Carnival activity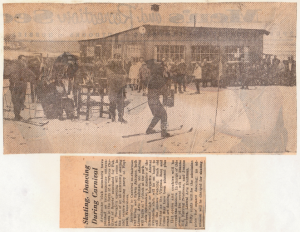 …this pic shows the east/right side concrete block addition which included the ski patrol room on the right wall, rest rooms, kitchen with three gas grills, counter with sink, and hill manager, Dennis Evinrude's, office across the hall to the north: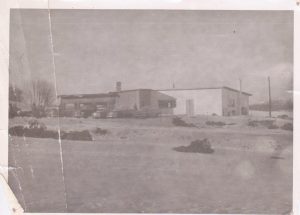 In the middle was an entrance, seen as a "bump-out". In the middle of the addition was an entrance to the kitchen & ski patrol room, important if there was an injury to bring in and warm up the person.
Lots of activity pictures…Fr. Hochhaus on a club-owned tractor with a load of hay …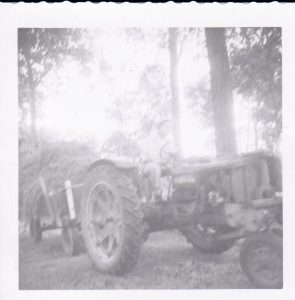 …Oct., 1954…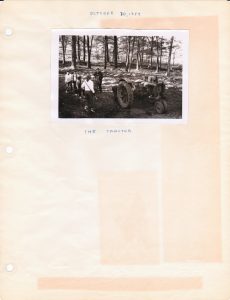 …more follow….
After having a rope tow (powered by an old – '30's? – engine from a car one of the members wrecked) installed under the direction of Don Haas, a civil engineering student, Father Hochhaus scrounged materials to be used in construction of the original lodge (pictured above), built under the direction of Jerry Wimmer, a student of Marquette's College of Engineering.
Don and Mary Haas (in a 2006 visit to Ausblick) recall working all day along with others from Marquette, the girls making apple pies from nearby apple trees and the boys picking corn from a farmer's field (Condon's? Meissner's?) to go with the hamburgers they made on which to feast after the work was done. Father and Don would recite poetry.
According to the Haas's, in the early days, students had to pay to ski but could work on the lodge or grounds to earn a ski ticket (A 2012 visit to Marquette University's Library archives found documents, to be added soon, related to the fee schedules.).
Here's a letter that Mary Haas wrote in February, 2006 and sent to your (1st) historian following their visit to our "new" (2000) lodge:MaryHillHaasLetter206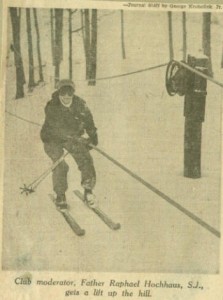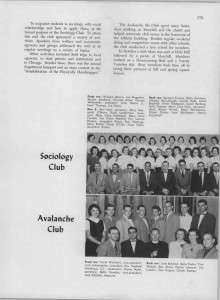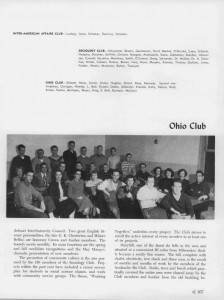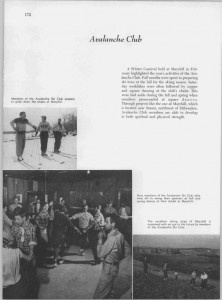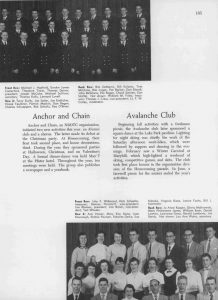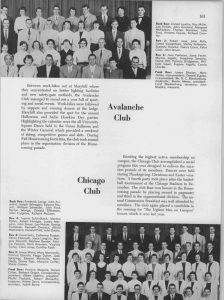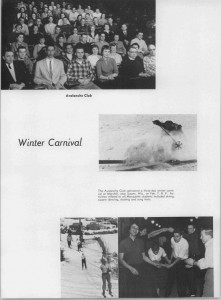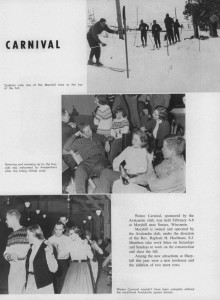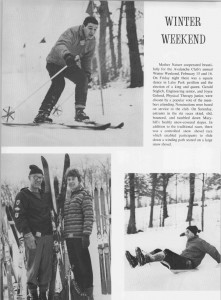 …from 1965 yearbook>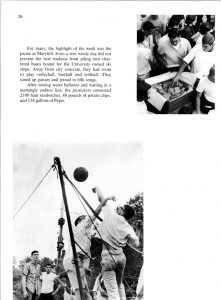 …finally, from 1969>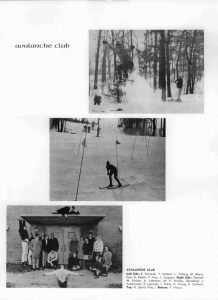 The above are pages taken from various MU yearbooks specific to the Avalanche Ski Club membership, on- and off-hill activities. Summer activities included volleyball and freshmen orientations.
…from September 11, 1955……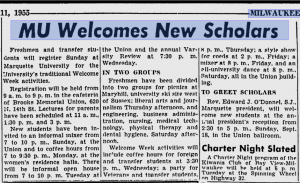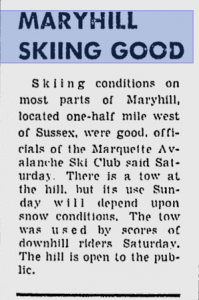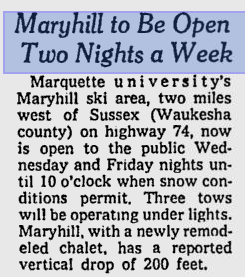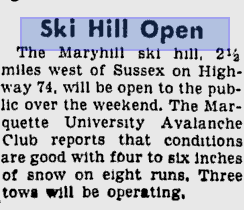 These are from Milwaukee newspapers in 1957 and two from November, 1959.
Found, a picture from 1961, showing a ski patroller (or, someone wearing a patroller's jacket?) getting some serious "air": ….yikes!!!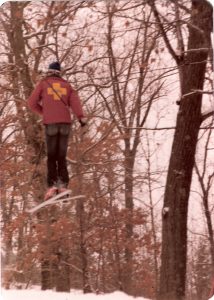 (We have found Milwaukee Journal and Milwaukee Sentinel articles related to the Avalanche Ski Club and Mary Hill. We will post them as soon as possible with some commentary. Here is a sample, a teaser from March 1, 1965 …)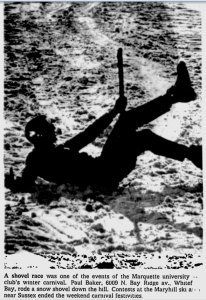 Aerial view of Maryhill 1963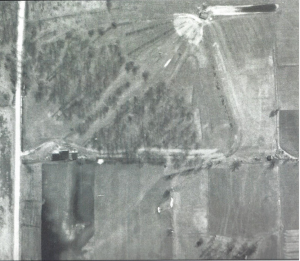 …and 1965…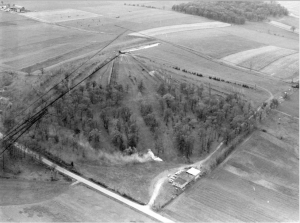 …and…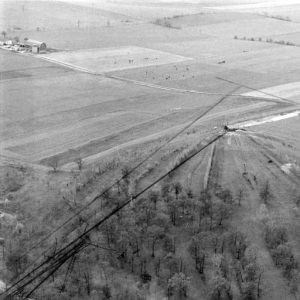 ….and, one from 1970,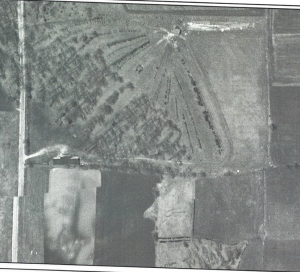 (and closer)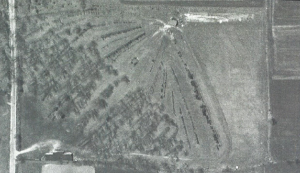 which does not yet show the tripe chairlift installed by Ready, Inc, d/b/a Ausblick Ski Club. 
Earlier, above, mention was made about a rope tow. There were later more, one going west from near the west side of the second addition to the original lodge up to where the bunny hill came northwest from the original top of the hill. There was another rope tow from the top of the hill down to where that lower bunny hill ended. Many a "newbie" skier, ski lesson neophyte, had a real challenge hanging on to the rope yet also keep their balance from the bottom to that mid-point. Lots of fallen skiers slowed the line behind them, often causing the lower bunny hill tow operator to stop it. When we installed a handle tow for the beginners, we removed that last vestige of the "good old days" of uphill transportation. Your (first) hill manager gave your (first) historian three of the old wire car wheels in hopes he could use them with his 1934 Chevrolet pick-up. But your (first) historian saw a better use for those wire wheels. He found some cheap (Walmart) battery-powered clocks that fit right where the hub cap would go and attached the clocks to them. At least one is used, hanging outside the lower lift shack so folks could tell what time it is…..when not contantly looking at their smart phones where they could see the time of day.
Marquette students remove their skis at the bottom of the hill, 1970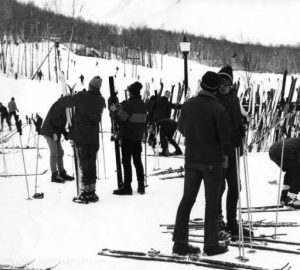 (The words before this picture of students removing their skis are links to some Marquette University Library archives showing older to MUCH older photos/descriptions of Marquette life, students, activities. Don't ask me how this happened… fortuitous, I guess.)
(…. and, some aerial views of the ski hill taken at different times over the years, this being one of 16 overhead back to 1941. All will follow in chronological order.) AusblickAerialVw14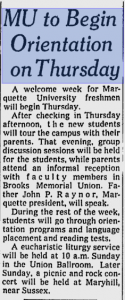 …from August 25, 1970, not long before turning ownership of Mary Hill to Chip Swallow and John Buechel.
Even after Marquette sold Mary Hill, the Avalanche Ski Club continued: Students learn more about the Avalanche Ski Club at their table as a part of the student organization orientation, August 31, 1974.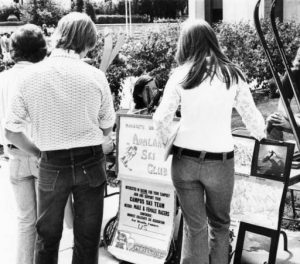 (Additional information is being prepared from conversations with and documents given by Joe Wachtel, Father Hochhaus' nephew who "hung around" his uncle at the ski hill as much as he could.)
In 1970, Marquette University realized that expensive upgrades were going to be necessary for safety so reluctantly sold the hill to a private corporation, Ready, Inc., which expanded the lodge and added the first of many improvements, including snowmaking, grooming, and the first triple chair lift in Wisconsin. The deal was struck because Marquette needed land on which to expand the campus and the owner of that Milwaukee property, Kingston "Chip Swallow, Jr. was interested in running a "country club-style" hill. Chip Swallow and friend, fellow investor, John Buechel, were fellow ski patrollers at a Washington County ski hill and were traveling up north to a patrol test. On the car trip, they got to talking about their mutual passion for skiing and formed a partnership to take over Mary Hill. Later, they were at Pabst Brewery's Ratzkeller pondering what to name the hill. They asked the bartender, Adolf "Adi" Binder, a German-born with a still heavy accent, what German word would equate to Buena Vista, a term they knew from some ski run names both in Europe and at some US resorts. Adi immediately answered, "Ausblick!" And, so our name was born.
After three unsuccessful years of operation, the site was sold for $200,000 – $100,000 in loans from some members **, who were soon paid off & $100,000 in (I will get details again from Dennis) – to Ready, Inc. Almost immediately, Ausblick, Inc. formed in 1973 as a non-stock, non-profit corporation. It struggled for quite a few years trying to convince area ski enthusiasts to join the club. In the mid-1980's, its maximum limit of members according to by-laws, then 300, was reached. Since then, a growing ski race team brought the need to expand from Wednesday night, Friday night, Saturday and Sunday skiing to include Tuesday and Thursday nights.
**
The origins of our website: In 199?, Ausblick Ski Patroller, Dave Buck, set up a website for the Ausblick Ski Patrol. He was in the "avante garde" of the fledgling website development scene. Because your then/still historian was on the club's Board of Directors, as well as a fellow ski patroller, he got together with Dave to see how he was getting it set up. Dave and Jim discussed how a website could benefit the club as well. When Jim discussed it with his fellow board members, they agreed we should proceed to develop one.
Ausblick has always tried to make our ski, then snowboard experience as good as anywhere else. We've had state of the art snowmaking and grooming equipment. Here is a picture of a Tucker Snow Cat being delivered (date?), shown in front of our first lodge.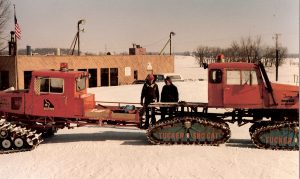 When (date to be inserted) our chairlift failed requiring a part be fabricated, our hill manager used it to tow skiers up the hill to get in some skiing until the chairlift was again operational.
(In a July, 2019 conversation, another name, Ausblick Ski Club, Inc., was mentioned…..more on that, too….soon)
[Betty Jo Azpell (formerly Berghammer), our longest-term ski patroller, Len Anhalt, former ski patroller and past president, John Stollenwerk will relate some anecdotes about the early days (We will expand this history soon with some of those stories, as well as former student, Gary Kropp, whose name was found in a Milwaukee Journal story.).]
 Photo of National Ski Patrollers taken in the early 1970's. Kneeling from left, Dick Gutenkunst, John Martin, Bill Tews. Standing from left, Nick Kaiser, Kent Schaefer (MD), National Rep Bob Leverton, Len Anhalt, Ted Campbell, Charlie "Stormy" Keller, Jim Derse. Picture taken in front of Ausblick's first ski lodge.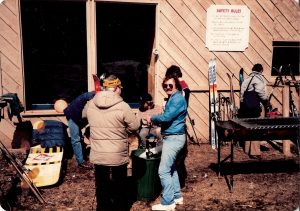 ….a very old picture of Ausblick's first (still current=2022) hill manager, Evinrude, looking to where he heard the camera "click", in front of our first lodge (Yeah, camera shutters made a clicking sound back then. lol).
Two of the rope tows we had – one from the dogleg turn of the bunny run to the top and one on the east side of the race run – were not being used much, members favoring the triple chair, so were removed (late 1980's/early 1990's). The motor housing from one of them was salvaged to be used as our race run start shack. Destroyed a few years later by an arson fire, it required a "work day" for Len Jakus, Pat Barney, Tom Blong and Jim Stein to build a more spacious replacement. Continued growth of the race program brought the need for the main run start shack and ramp as well as improved timing shacks at the bottom. In the late 1990's, we added the start shack at the top of the main run next to the upper lift shack to give the younger, budding racers the same experience as the older kids over on the race run. Then, in 2005, a new start ramp was built in part to relieve congestion at the unloading ramp and to allow the racers more room to line up and "stage" for their turn down the course.
Back in the days of Marquette ownership, there was no such thing as night skiing. No lights. Too expensive. When Ready, Inc took over, besides the "new" triple chair lift, "new" lighting was installed. At the time, it was the best one could get, before serious lighting technologies developed. That original hill lighting system, state-of-the-art when installed, left us with some serious "dark" spots. We could not improve hill lighting for night skiing without replacing old with new. We made plans to do the $100,000+ project in three annual phases completed in 1992 or so (ask Dennis).
A picture of a parent, long-time member, Betty Jo Azpell and her children, Don & Katie, enjoying a sunny day in the days we had the old lodge: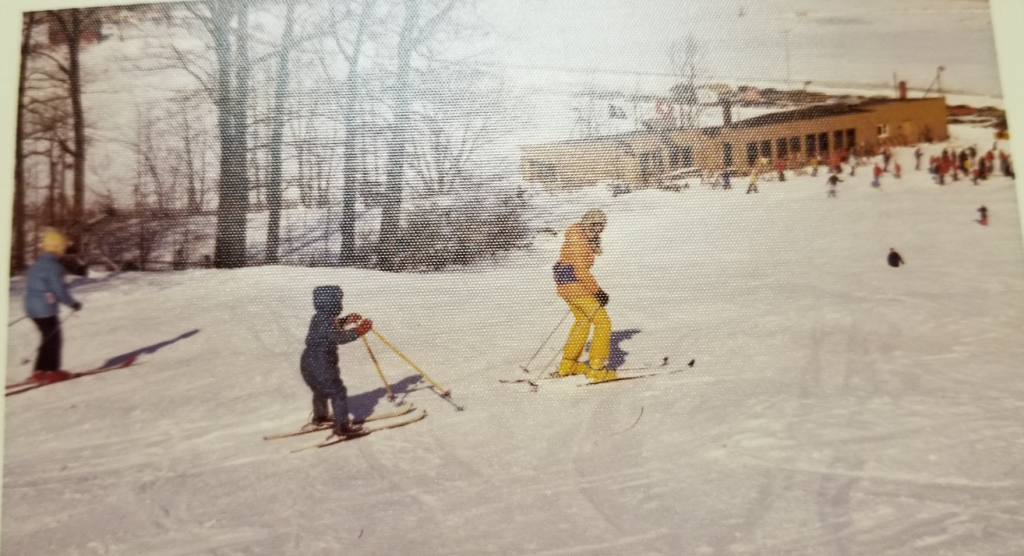 2000 overhead view as introduction to this next narrative…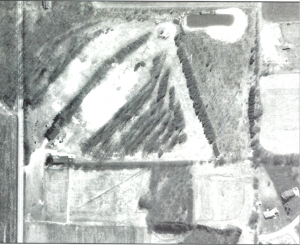 …top is south, with original pond dug east to west above the upper bunny tree line.
Because our first lodge's north wall was the property lot line, former president Len Jakus, at the urging of the Board in 1990 (?), negotiated to buy nine acres (we should have bought more) at a cost of about $50,000 from Dan Meissner, who had allowed our members to park their cars on his adjoining farm land in exchange for a family membership (Dan Meissner had sent a letter, that will be posted, to Marquette complaining about how Marquette students would damage his corn crop. One could be suspicious of the allegation given the quality of students attending Marquette in the 1950s-1960s.). This added land prompted your Board to look at how we could better utilize the added terrain for expanded ski runs. And, anticipating that Sussex to the east would annex land from the Town of Lisbon for property development, it became obvious that our "old" lodge would need significant improvements for us to retain our "conditional use" permit. Coupling that with the prospects of expanded ski terrain being able to handle more ski enthusiasts, we engaged in a long term plan that included replacing our original home, the source of MANY fond memories, with the current lodge….seen in another overhead/aerial view…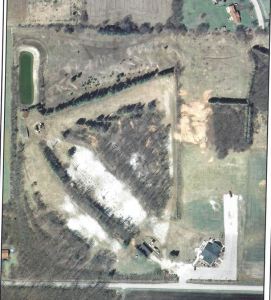 …
…After many attempts to take a building plan to execution in the early 1990's, the 1999 Board decided on a design by then-member Dale Streitenberger. Membership response was generally favorable but many resisted, suggesting "the old lodge was just fine." Construction finally started with excavation and footings poured in late 1999. State of Wisconsin approval was a formidable challenge, delaying the work more than once.

  Past President Len Jakus and member Steve Ristow discuss site footings plan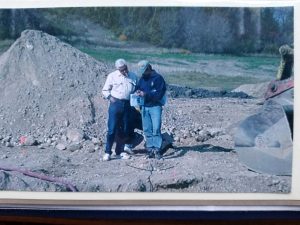 We encountered ground water where we planned to pour the basement floor, so had to elevate one foot above plan…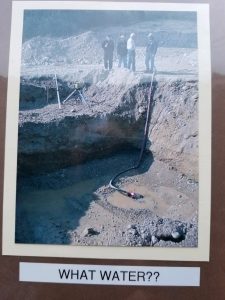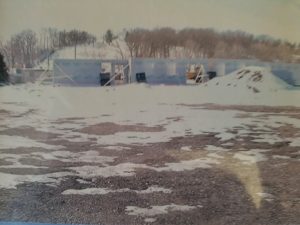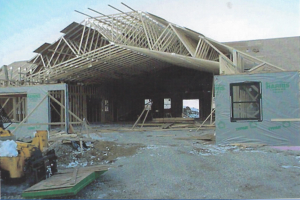 [more pictures follow from a scrapbook that former President Patrick Barney (Marquette U. graduate/Chicago Bears fan, put together]… Due to mild weather, completion just preceded our hill opening in December, 2001. So ended Phase One of our long-range plan.
Part of our plan required saying "Good bye" to the original lodge, with its additions. Our hill manager took pics of the day-long teardown, the first one aided by another who snapped Dennis Evinrude with Myrtle & John Condon who sold Marquette U the property so many years before.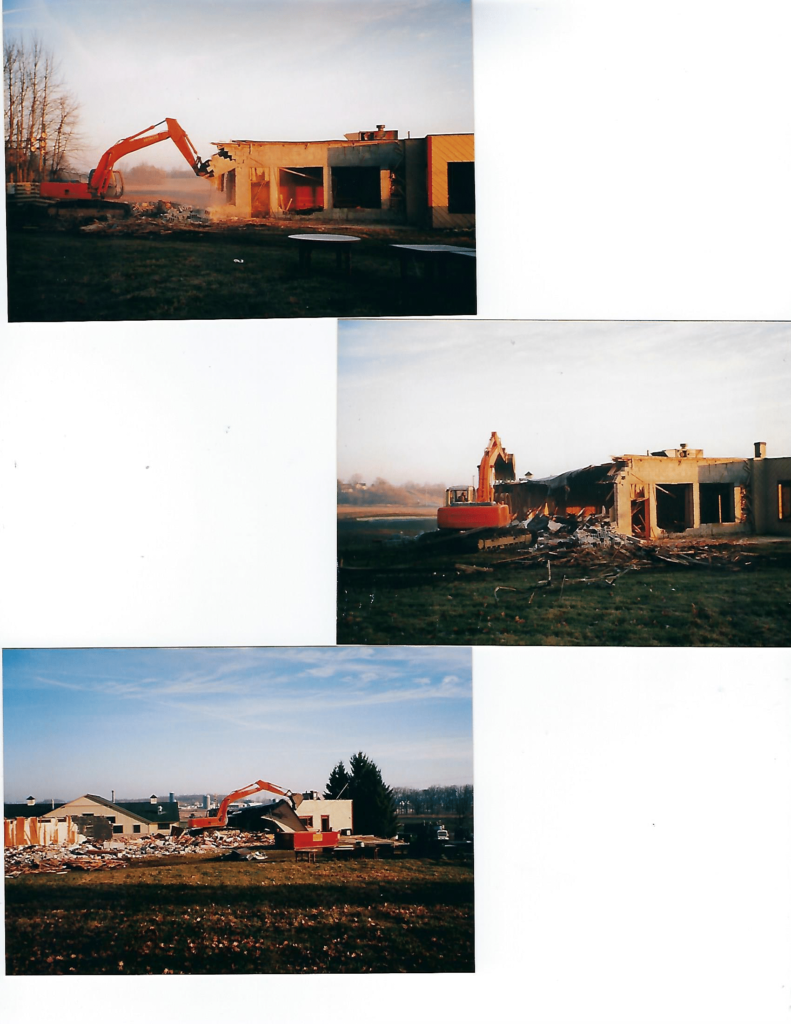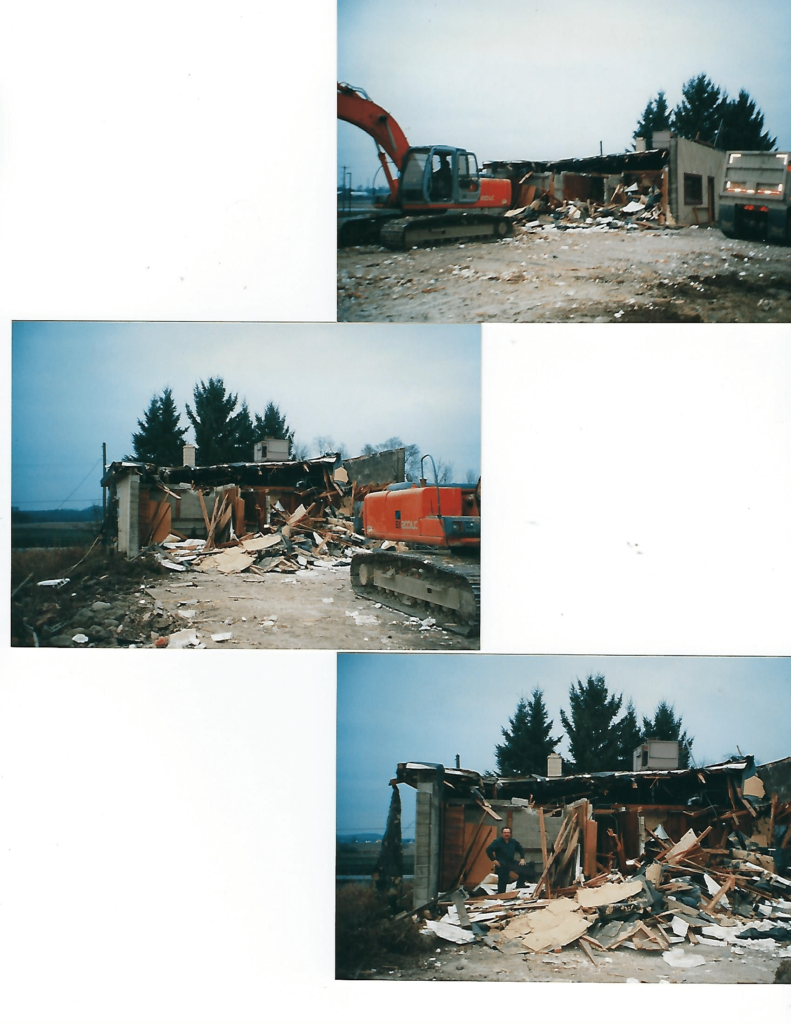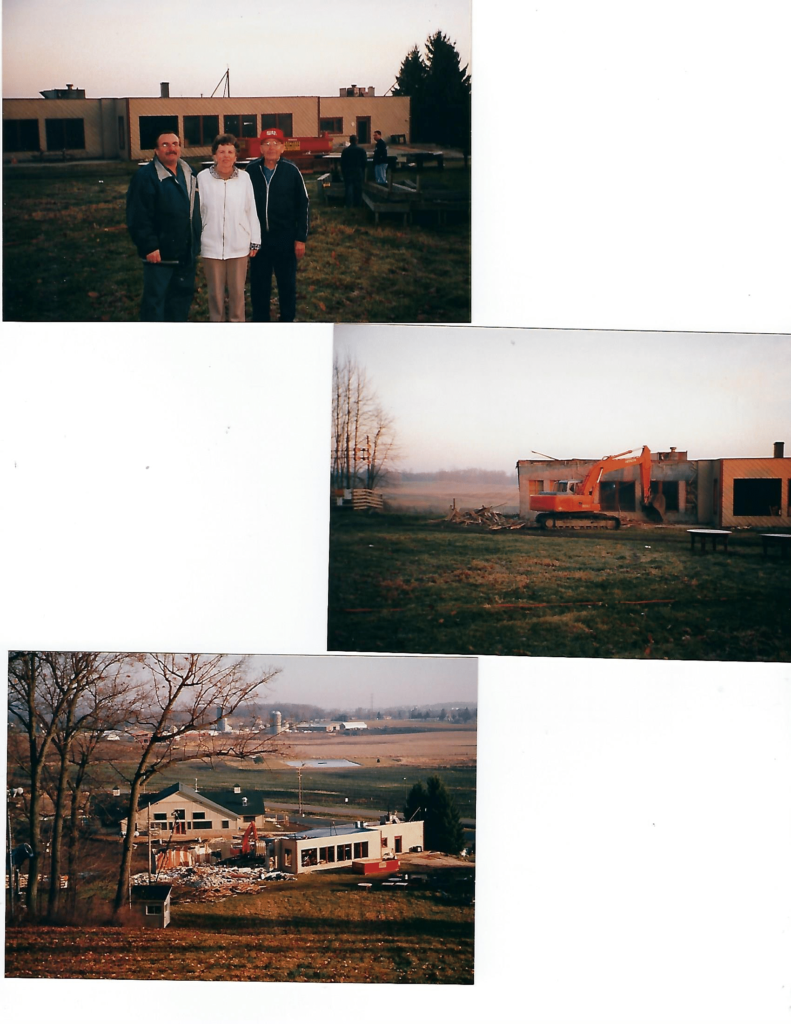 After enjoying the accolades of our new edifice and casually discussing how we would fund further activity, your Board felt that we would tackle some of the necessary foundational work, focusing on those things that we could budget from year to year. So, work began on our Phase Two with site engineering to determine if we can relocate the top of our hill to the southwest corner of our property and increase the height by 15 feet or more. This would allow us to access all skiable terrain from a (to be) newly installed quad (four person) chairlift. Replacing the pond, increased in size at least once, with one located to the north of the existing upper bunny run will afford more direct access to the main and racing runs. We accomplished this elevation feat thanks to a variety of neighboring building projects that had excess gravel/dirt to dump. We graciously accepted the free fill to add to the west side of our property, west of the fir tree line by the (then) upper bunny run. Our future placement of the new lift through woods to the west of the main run, originating near the front of the new lodge, would afford ski/snowboard access to virtually all our property. It would afford skiers/snowboarders and, especially, new learners a single fall line to negotiate, rather than the double fall line we'd had for so many years.
Part of our plan required removing our former maintance building, which was next to the triple chair lift and building a new larger structure that would accomodate our growing assortment of equipment, including snow grooming, snow making and related functions…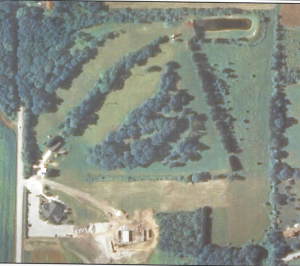 Some people have called it the "Garage Mahal", completed in 2010. The next phase has been started, 2011 & 2012 with regrading and dumping free fill to the west of the upper bunny run. With this, we removed the bunny rope tow. To accomodate beginning skiers, we installed a variable speed control on our triple chairlift. And, we added a handle tow to the north of where the old rope tow had been, running adjacent to the west parking lot area. Re-contouring the former lower bunny run would allow ski and snowboard instruction away from general skiing/snowboarding traffic. Part of the area to the north of the former rope tow is used for snowboarders and, maybe skiers too, to enjoy terrain features set up each season. Three of the former rope tow pulleys, old car/truck spoke wheels, were saved by Dennis Evinrude, who gave them to Jim Stein because Jim has/had a 1934 Chevrolet pick-up. Dennis thought Jim could use them. But,Jim felt they were part of our history, back to Mary Hill/Marquette days and chose to use them for clocks, inserting cheap Walmart clocks where hub caps would be. They are used at the lower lift shack and bottom of the handle bar tow/beginners' training slope. See a picture of one of them….
The new pond, located to the west/uphill of the maintenance building, has about 4.7 million gallons of capacity. At this writing (12-2016), it is now "on-line" supplying water to the snowmaking machines. A second well was dug, just enclosed in a shed, is to the north/next to the handle tow operator's shack. Water from that well fills the new pond.
Our next phase will involve replacing the existing water and electrical grid as well as adding a grid for the new area to the west of the current upper bunny run. We are doing this in segments so as not to disrupt year to year snowmaking, as well as paying as we go. Here is an overhead/drone view of the (current) old pond looking northwest to the beginning excavation of the new pond during the summer, 2018: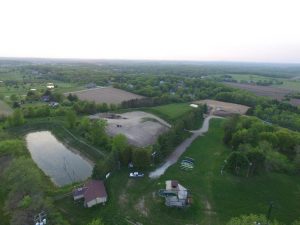 Here is an overhead/drone picture of the pond before chainlink-fenced in: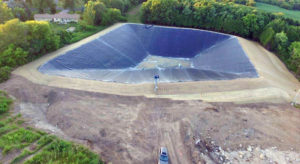 So, how did Ausblick Ski Club deal with the "new" snowboarding craze? Well, in 1993, some kids and their parents came to a board meeting, presided by Jim Stein, and asked if the kids could snowboard. We let the families leave so we could discuss the pros and cons. After consideration of such things as the noise that first generation snowboards made and the short history of the "knuckle-dragging", "grunge" look of snowboarders seen at other places, the Board agreed to allow snowboarding on Friday nights and Sundays after 3PM, on a trial basis. Wouldn't you know it, the first Friday we allowed it, a guest had a serious accident, He hadn't buckled in one of his feet, lost his balance and did a pirouette on the other foot. He had multiple compound fractures in his ankle requiring pins and plates to get his bones to knit back together. After that incident, the Board said only members could board. After some months and hearing the reaction of ski members, we gradually allowed anyone to board anytime. We were still cautious and ready to impose restrictions. As folks know, all boarders must wear a leash connecting their board to one foot.
Anecdotes from years ago: When your (first) historian joined Ausblick Ski Club in 1985, a (now) dangerous ski sport was a rather common activity. A member who was very much involved, Les Walenta, was self-appointed as "safety officer" overseeing ski jumping off a wooden/plywood/snowpacked ramp. It was located on the west side of the "main run" at the top of the last headwall. Kids were seen to get some serious "air", no one doing any, any inverted flips. Les will confirm if anyone did a 360 as your historian doesn't recall. (The further above picture was located, source and skier unknown, of a ski patroller jumping, which could be a precursor of Ausblick's early aerial maneuvers.)
When we were in the original lodge, the kitchen was outfitted, as our new lodge has been, with pizza ovens. They are in almost constant use by our members and their guests. One Sunday, typically busy, Joyce C (a brief Ski Patroller and spouse of an original patroller, Ted C) came to your historian and said that someone has taken her pizza out of the oven. Knowing that a properly worded announcement would work better than screaming "Who took Joyce's pizza?", he/I went on the PA system and nicely asked if the person who mistakenly took the wrong pizza please return it. Some minutes later, a sheepish-looking Mrs C admitted that no one had taken the pizza. It had simply slid to melt/stick to the back of the pizza oven wall. When she pulled the grate, it stayed stuck to the inside of the pizza oven. He/I suggested that Mrs C get on the PA system and apologize for the confusing and unnecessary announcement.
Another good old days anecdote: One sunny Sunday, a group of us patrollers were sitting at the round ski patrol table chit-chatting. Our hill manager, Dennis Evinrude, came over and pointed to a snowboard in the rack just in front of the lodge. It had some interesting graphics on it – a very, very provocative likeness of Silverster Stallone's blond wife wearing just a smile. Since the Sunday crowd was populated by many families, lots of kids, Dennis asked your historian what to do about it. Advised to get a garbage bag, he watched as your historian went out and draped the bag over the snowboard. We then all watched and waited for the owner of the board to go back out to ride. When he did, your historian went out with some red duct tape and asked him to "cover up the vital parts". With an understanding smile, he did so. We patrollers were duly appreciative, as were many other onlookers.
One winter Friday night/Saturday morning, the triple chairlift failed. A fluid coupling wore out and such as that part were just not "on the shelf". Fortunately, a club board member at the time, Gerry Mac Dougal, worked for the Falk Corporation. He called a small crew in to their fabricating shop and they set about to reproduce a replacement. It was ready and installed and the chairlift was again up and running an hour after our Saturday evening hill rental to, I believe, the Quad Graphics Ski Club. Awesome effort. During the day Saturday, Dennis E or one of his crew towed skiers by rope behind our old Tucker Snow Cat up the hill so at least some of our members could enjoy skiing.
Christmas Eve, 2018, another chairlift issue. Seems a drive shaft wore out, requiring a bigger "scramble". We learned a replacement was only to be found in England. RUSH shipment still took nearly a week, meaning our "Christmas Racing Camp" didn't occur at Ausblick. Our team had to go to other ski hills to get in needed practice. It worked out as our team was "in the groove" when the races started.
From time to time, when the local Sussex Sun weekly newspaper existed (Milwaukee Journal Sentinel bought out the rights and ended up "making it disappear".), a reporter would visit our club, take a few pictures and interview our hill manager, Dennis Evinrude: AusblickNewspaper12 and the Waukesha Freeman, too: AusblickFreemanArticle219
Some past members to be recognized for their awesome histories: Betty Jo Zintek Berghammer Azpell, who graduated from Divine Savior/Holy Angels High School, Milwaukee, in 1958. She came back to teach Science courses, with very impressive credentials, from 1977 to 2015. Yet, she continues to teach, being asked to fill in for absent teachers (Her classroom is "graced" by a DNR-approved mounted Screech Owl, donated by your historian.). She was a National Ski Patroller at Ausblick from 1970 until retiring in (to fill the year shortly; she still skis in 2018)…Her first husband, Don Berghammer, was part of the firm (Berghammer Construction) doing most of the conversion work at the hill. He/that firm was instrumental in installing our triple chair lift in 1970/1971 (more on that).
and, showing her still skiing in 2018 (2019, too)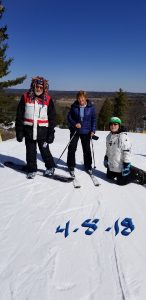 Your historian has been remiss, partly out of ignorance, in not adding a long time Ausblick member AND Marquette High School/University Alumnus, as well as Avalance Ski Club member, John Stollenwerk. A very humble man, married to an equally humble JoEllen, he has an older brother, Jim, who lives in Ephraim, in Door County, WI who reputedly knows a lot of our hill's history about which we will post as much information as Jim can remember once we cajole him to travel south to our humble surrounds.
Some impressive past Ausblick ski race team club members: Julia Wong, daughter of former Race Team Director and professional ski racer, Billy Wong, went to US Junior Olympics competition in Colorado, winning the opportunity to compete in the International Junior Olympics in Topolino, Italy, where she placed 4th in the world in slalom. As a result, your ski club and its race team are known around the world. Here are two race team newsletter editions, seen on our Race Team's website from time to time: AusblickRaceTeam12 and, from 2019 : AusblickRaceLinesNewslttr Read especially the story about Eric Anderson, an awesome, driven "beast" racer!!!!
Another former Ausblick racer, a once shy 5 year old, Annie Ochs moved with her mom and dad, Jenny and Don Ochs, to Crested Butte, so she could have far more ski racing weather and slope conditions than our hill could afford her. Now 23 (2018), she's graduated with a degree in Engineering Physics from the Colorado School of Mines and is now pursuing her Master's in Biomechanical Engineering and is a race coach at Loveland, CO. Pictures are coming…..
Our Ski Patrol is a member of the National Ski Patrol System (NSPS). In the early days, until the mid-1990s, all patrollers were expected to be members of the ski club. As many of the older patrollers retired, attracting members to join the Ski Patrol became difficult. Our patrol directors (now called patrol represenatives) developed various incentives to encourage members to attend classes, take tests (book, skills, on-hill), to become NSPS-certified to patrol. Patrollers are encouraged to become teachers (Outdoor Emergency Care = OEC [formerly Winter Emergency Care = WEC], CPR, ski skills/toboggan handling, chair evacuation).
In 2002, one of our Ski Patrollers was heading to the U.P. of Michigan to guest-patrol at Blackjack. An auto was coming from the opposite direction on our patroller's side of the road. Veering left, our patroller's passenger side was hit by the other auto, causing it to flip over and skid a long way in its roof. Being fortunate not to be the very injured person, Patricia Camp used her First-Aid skills to immobilize and otherwise see that her bleeding and very injured friend would not move without further assistance. An ambulance with EMTs arrived and took over care and extrication of the injured. Ms. Camp received a letter from the ambulance service recognizing her for what she did to prevent her injured buddy from dying. That letter with other documentation was sent to the National Ski Patrol office in Denver, CO. She was awarded the Purple Merit Star, #1081, for saving Rick's life.
The club Ski Patrol decided back in the early 2000's to ride in the then-Miller Ride For The Arts, the 25 mile route south to Grant Park and back to the Summerfest grounds. June 5, 2005 was eventful. Among the riders were Jim Mitschrich, his wife, Megan, and son, Zach, along with Jim Stein. Jim Stein was having a problem that morning in keeping up. Yet, they were ahead of the rest of the group. When the Mitschrichs and Stein got to the first rest stop, Jim Stein got off his bike and collapsed. "Mitsch" saw Stein on the pavement and rushed over to discover he had no pulse. Mitsch started CPR and his son, Zach, ran to get the rescue squad. They came with the AED and put the pads on Stein's chest, turned on the machine which checked and called out to "press for shock". The "newbie" EMT, in a panic, pressed the "stop" button, whereupon Mitsch yelled to turn it back on. Having done so, Jim Stein's heart restarted. The EMTs loaded him in the ambulance for transport to St. Luke's Hospital where a stent was installed in a 99% blocked artery. But, on the way, Stein's heart stopped again, requiring another shock to restart it. Jim Mitschrich was awarded a National Ski Patrol award for saving Jim Stein's life. Mitschrich was awarded the NSPS Purple Merit Star, #1257 in a ceremony. (more, with pics, soon)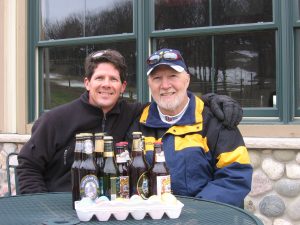 MitschrichPurpleMerit AwardSubmission2006
Another Ausblick Ski Patroller, life-saver, Dan Wellman… His story reported in the Fall, 2020 issue of the Sweep, a newsletter of the Southcentral Region of the Midwest Division of the NSPS: AusblickWellmanDPrplMrt1120
…more about the rides, when we started, pictures….
In the early 1990's, Jim Stein started his own "end of season" hill closing, on Easter morning. He would arrive at the ski hill, don boots and walk up the hill as far as there was snow. He'd clip into his skis, then, when he started snowboarding, click into his board, then navigate down the slope. The ungroomed snow was unforgiving and treacherous. No, it was not slushy as any melted snow water sifted through.
Below = 2019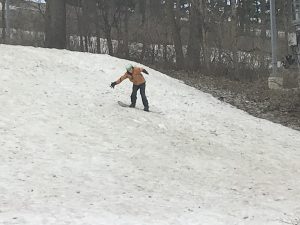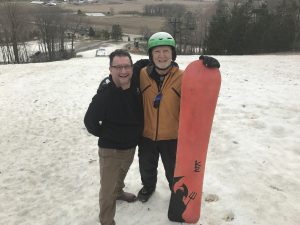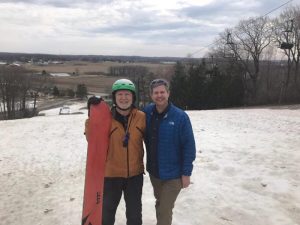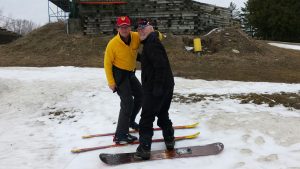 = Mitschrich & Stein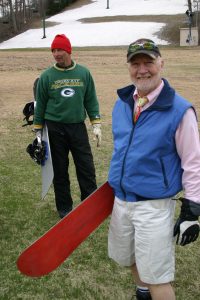 = 2011 with JD (Jim Derrick, a fellow snowboard instructor)
….more pics follow.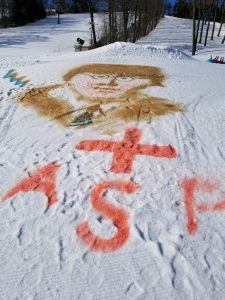 This is what Jim Stein called "snow art" from the many years ago when he started spraying food coloring and water on the snow. Before the Ausblick Ski Patrol started having a theme, Jim would spray a picture or symbol on the hill related to events going on, such as one year the Winter Olympics took place. The above representation of Harry Potter relates to the 2019 carnival theme of the same name. A prior year, the theme was Frozen, thus: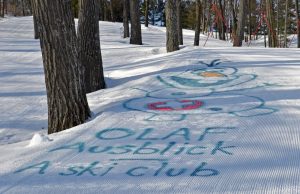 …then, Star Wars: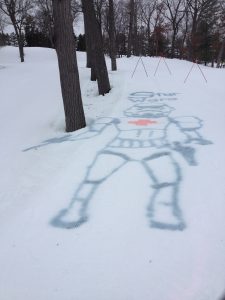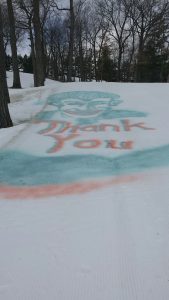 …one year, it was a cowboy/western theme (wish it were easier to see):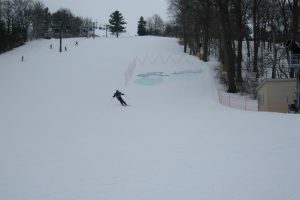 …this is of a Winter Olympics year: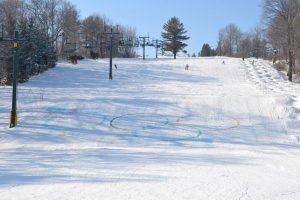 …one of his favorites, a beach scene, on snow: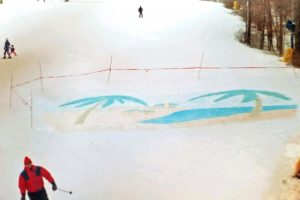 …February 2020, the theme was "electronic games" (huh?), so Pac Man was seen "eating" Ausblick Ski Patrol on a curvy slope: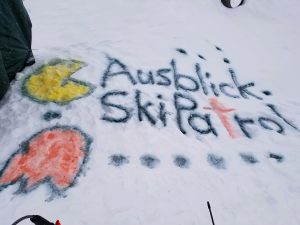 … and a very life-like Mario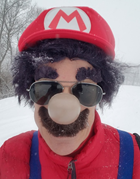 (…I couldn't resist…ski patroller, Ky Ryder))
More snow art will be posted….. 😉
In 2018, Ausblick started a season-ending event, held on the Member Appreciation day. Here are some pics from 2018…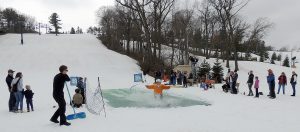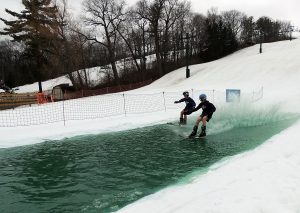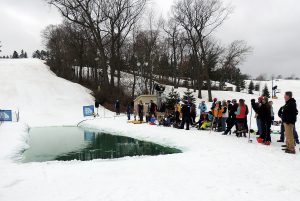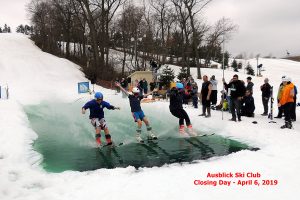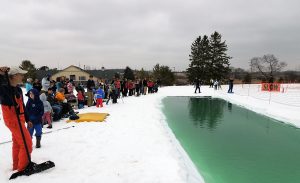 ….and, from April 6, 2019, thanks to a local news reporter/photog …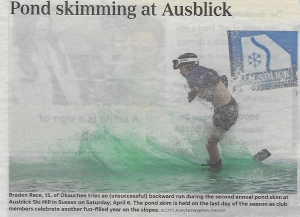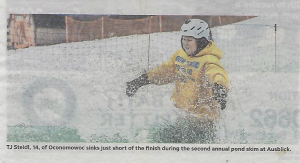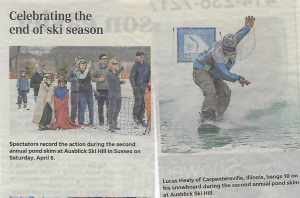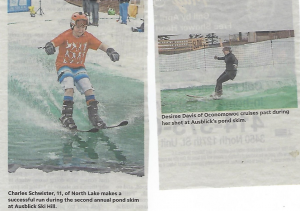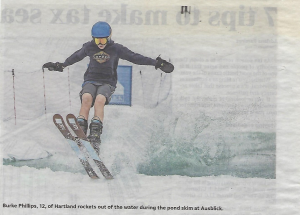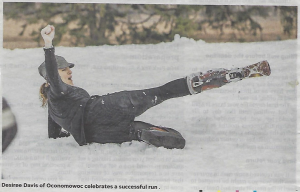 In May, 2015 we hired Kyle Martola to manage our hill operations – snowmaking and grooming. He had been a part time employee here since 2013-2014, coming down to help build snow features with the groomer, while being a full time employee at Sunburst, in Kewaskum, WI. He has an awesome resume'; one example can be viewed at: https://www.gmtoday.com/business/up-and-comer-finds-his-perfect-ride/article_67746aa8-92c5-543e-a8e0-eb7da2ff12bf.html; another showing a younger, more "bearded" Kyle in this from January 27, 2012: https://www.youtube.com/watch?v=4XaLJtJXhz4 Kyle said that in 2015 he taught an aspiring 10 year old Courtney Rummel to "do rails", who competed in the 2022 Winter Olympics in Beijing at age 17. From West Bend, WI now, she placed 12th, just missing the finals. (https://www.newskudo.com/utah/salt-lake-city/sports/7890161-courtney-rummel-misses-out-on-snowboarding-slopestyle-final)
In the summer, 2019, your Board of Directors decided that your club chalet needed space freed up for members so decided to build a yurt to the southeast of the lodge for the snow sports instructors to meet/use. Construction began in October following required permits being secured. More pictures here showing its construction on November 9, 2019: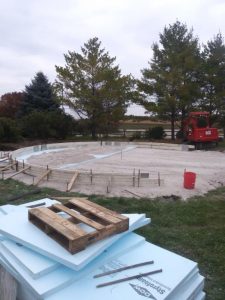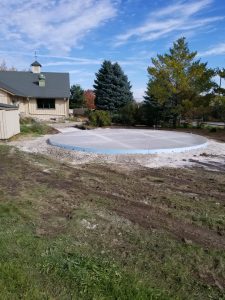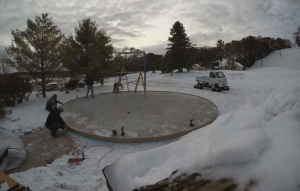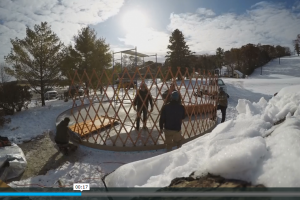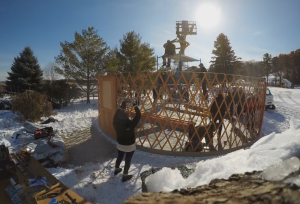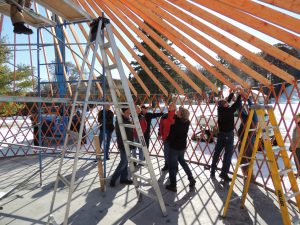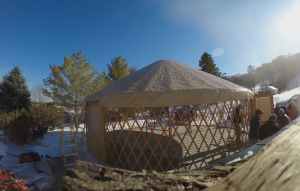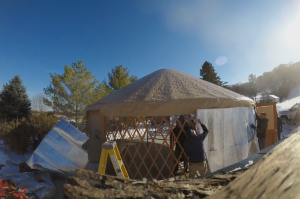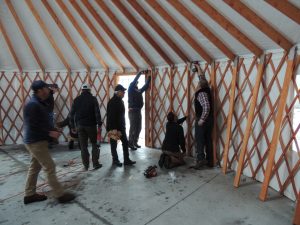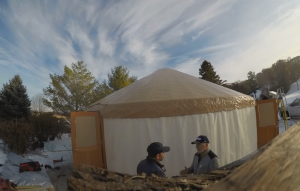 Your (first) historian discusses the build and history with second generation member, Dave Denton.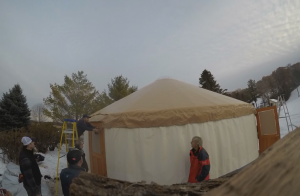 Among the volunteers, member Paul Woldt admires the results of his/their efforts.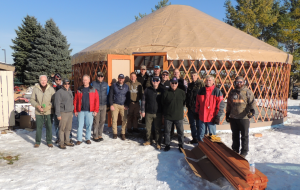 Yurt build volunteers and donor Bob Kuelthau to the left; work competed in 8 hours. Volunteers who were very capably led by John Siepmann and Mike Wickert, serving on the Board of directors for quite a few years, included: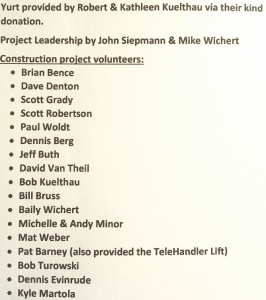 While the yurt build instructions were easy to follow, once "the crew" figured things out, it went together fast, "easy peasy".

 Cool space (Yes, it will be heated)
(as the story goes, more history details to follow as your historian has many, many more documents to post here….)
Ausblick Ski Club's purpose is to provide its members with the finest ski facility in the area at a reasonable cost and without congestion.
Assets of the club include the hill, triple chair lift, snow making equipment, grooming equipment, cooling pond, lighting, chalet, garage, and other miscellaneous equipment.
Ausblick strives to provide well-groomed conditions for the varied abilities and interests of its members. Ski instruction, racing and freestyle, and snowboard programs are offered to help members improve their skiing/snowboarding capabilities. Ausblick ski patrollers are part of the National Ski Patrol System.
The social committee organizes events and parties that foster the camaraderie among members, which has built many old and developed new friendships.
The ten member Board of Directors and through committees headed by board members, is responsible for the formulation and monitoring of:
Policies (Operations, guests, hill rental, etc.)
Programs (Social, membership, racing, ski instruction, etc.)
Budgets (Expenses, cash flow, funds)
Longer Term Improvements (Needs, priorities, funding plans)
Our Emeritus membership status
Our Traditions and Rich Growing History
Board members term three years. Three board members are elected at each annual meeting. (Held in August). The Board of Directors elects club officers.
Past Presidents
1973

Chester Schneider

1987 & 1988

Robert Kuelthau

1974

Tom Vavra

1989 & 1990

Len Jakus

1975 & 1976

Ted Campbell*

1991

James Peck

1977

Len Anhalt*

1992

Len Jakus

1978

William Blue

1993

James Stein*

1979

James Grove*

1994 & 1995

Charles Rogers

1980

Gene Dallapiazza

1996

Dennis Hilgart

1981

Ken Leenstra

1997 & 1998

Ervin Woller

1982

Charles Cerney

1999 & 2000

C. Patrick Barney*

1983 & 1984

John Borgwardt

2001 to 2011

Richard Ludwig

1985

Wayne Dannenbrink*

2011 to Present

Robert Turowski

*

1986

Lucy Crowley*
* denotes National Ski Patroller
Historical Photo Gallery