The season is almost upon us at Ausblick; and so a quick update seems to be in order.
First is an update on the Yurt mentioned in previous newsletters. It gives me great pleasure to announce the construction of the yurt on November 9th by volunteers of the Ausblick Membership. This project will host our Ski & Snowsports Team throughout the season, thus making additional space available within the lodge for members and guests. Championed by Members John Siepmann and Mike Wichert and constructed under the direction of John & Mike, along with volunteers: Brian Bence, Dave Denton, Scott Grady, Scott Robertson, Paul Woldt, Dennis Berg, Jeff Buth, David VanTheil, Bob Kuelthau, Bill Bruss, Bailey Wichert, Michelle & Andy Minor, Mat Weber, Pat Barney whom also supplied the TeleHandler, Bob Turowski and from the Ausblick Management Team, Dennis Evinrude and Kyle Martola.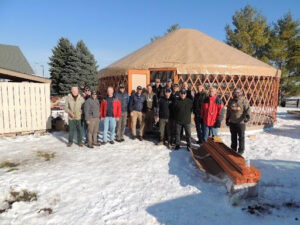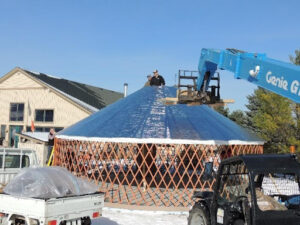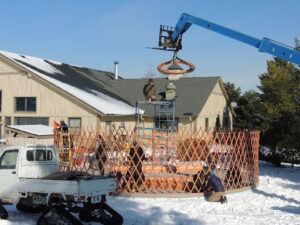 Special Recognition goes to longtime Ausblick Members Robert & Kathleen Kuelthau for their generous donation which covered the cost of the Yurt.
More pictures and a time-lapse video can be found on the Ausblick website "Ausblick.org" under the History and Photos tab.
Regarding the weather and snow……………….
While some area Ski Area's have recently opened, it's important to understand that Ausblick's snowmaking budget is fixed, based upon this season's membership dues revenue. As such, we have historically targeted the first week in December as the most reasonable probability the base we put down will not be lost due to a warmup. Currently we have approximately 40% of our target base, however there's a warm spell forecast, so Dennis and staff have decided to cease making additional snow until the weather trend co-operates again. On the positive side, our second high capacity snowmaking pump is about to be placed on-line and with the new gun operational we should be able to make snow faster than previous years.
One final reminder to the families that are new to Ausblick this season. The New Member orientations are Nov. 20th. (6:30-8pm) and Nov. 24th. (1-3pm). If you've not signed up for one of the sessions, please contact Dennis Evinrude to reserve your place for your selected date.
Thank You for your time and attention, and a special Thank You to all who made the new yurt possible for the upcoming season.
Bob Turowski
President – Ausblick Ski Club